Happy Monday Everyone!!  I hope you all enjoyed this month's topics all around children's health specifically back to school!
We will be ending the month on specifically how to keep your children's immune systems boosted this year, and some tips for that holiday that's coming up that ruins all of our lives when we are just getting on track right?  lol.  Halloween candyyy….
Lets first start our chat with Immunity.  To understand immunity we have to understand the immune system first.  The immune system has two parts the adaptive immune system and the innate immune system. 
Innate immunity is our first defense against invaders. The epithelial and mucosal linings of our respiratory and GI tracts, as well as our skin are major components of the innate immune system. These act as physical and chemical barriers against pathogens. Cells known as macrophages also play a large role in innate immunity. Macrophages recognize bacterial or viral components such as lipopolysaccharide (LPS) or double-stranded RNA (dsRNA), via special receptors known as Toll-like receptors (TLRs). TLR activation cause macrophages to secrete cytokines (small molecules involved in cell signaling and attraction), as well as to phagocytose the infected cells. The innate immune system is required to activate our adaptive immune system.
The
adaptive
immune response is mediated by immune cells known as lymphocytes. These are B and T cells. B cells secrete antibodies, highly specific protein molecules that bind to a specific pathogen. These antibodies bind specific parts of pathogens known as antigens – either presented extracellularly on infected cells or free-floating in the body. Antibody binding attracts mechanisms that will then attack and destroy the infected cell or pathogen. Some of these B cells become memory cells, which help the body "remember" the disease and prevent re-infection. T cells can either be helper T cells or cytotoxic T cells, and bind pathogens via the T-cell receptor (TCR), which senses specific protein sequences. Helper T cells activate B cells, attract macrophages, and secrete cytokines. Cytotoxic T cells create pores in infected cells through which they introduce chemicals that trigger apoptosis, thus actively killing the cell.'
"Here is the issue with vaccines in general and IMMUNITY.  Vaccines create temporal (short-term) antibodies ONLY. This is the sole requirement from the FDA in order to get approval to sell the vaccine. If you read the vaccine product insert written by the pharmaceutical company that creates the vaccine, it clearly states the increase in temporal antibodies as the basis for proof the vaccine works.
"But science has long known that antibodies alone do NOT create real immunity. Some people with high levels of antibodies can be exposed to an illness and still get sick, while others without antibodies can be exposed and not get sick.
Dr Merrill Chase, nicknamed the Grandfather of Immunology for his pioneering work, did clear cut research on this issue back in the 1950s. His results are clear: antibody levels don't determine immunity. 
The immune system is a highly complex system and science is still in its infancy understanding how it functions. In fact, immunology textbooks were completely rewritten recently after a University of Virginia study finally proving the link between the gut and the brain through the lymphatic system. Before this 2014 study, immunology books were adamant there was no link.
But doctors, who are only trained to promote vaccines and not in the science of vaccination, will never tell you this. In fact, most doctors don't know since their main sources of vaccine information comes from pharmaceutical company representatives paid to sell the vaccine, or the CDC, a government agency that has been called out many times for taking pharmaceutical industry money and collects royalties on vaccines sales."
Since vaccines are given by injection, they bypass the normal immune pathway(innate immune system) and therefore do not trigger the cellular immune system, which science shows to be the main component necessary to create immunity. ( you have to actually catch an infection to have IMMUNITY!)
As a result, there are numerous reports of outbreaks in fully vaccinated populations, with booster shots not making a difference. Since there is no benefit of immunity with vaccines, yet very real risk of side effects and reactions, the question is who really benefits from an outdated vaccine program?
Well we know that answer already… ehemm big pharma.  It's all about the money, not about health, which is extremely sad for our future generations.
But the point here to make is that vaccines, in particular here the flu shot, does NOT through research create immunity.. Even if it does exhibit a minute antibody response, you have to outweigh your risks since the other ingredients within the vaccines are usually the problem not the actual viruses.
Here is the list of ingredients in the flu shot:
– flu shots are manufactured in eggs, which is very labor intensive, expensive process.  They take an egg and inject some viruses.  The virus grows for 11 days, they "separate the virus from the egg", which viruses don't always separate from the egg and cause cross contamination.
More recently now they use dog kidney cells, caterpillar cells and others to harvest flu vaccine every 6-8 weeks. This is cheaper and quicker than eggs. With the prior it was 1 flu shot per year.
So how did they get funding to get the new cell line technology?? They had to create a pandemic so the government would fund it.  And that's what they've done.
Others use cells from aborted retinas in aborted babies, others through insect cells.
These vaccines are filthy, why would you want to inject this?
Even those who are sicker, I understand you want to protect against the flu.  But, for those that are ill, has there been any studies showing the safety with?  The answer is no.
Any new vaccine is tested on completely healthy people, which no underlying health conditions, no medications.  But who gets those shots, not always healthy babies?  This is the problem.  Immune challenged kids, the elderly who are already immune challenged.  There are NO studies on these.
They also only have very short term studies available.  For instance only 3-5 days post vaccine for a reaction and if not they say it's safe past that?  What about long term complications?  We have NO research for this.  Because the vaccine companies are backed through law to never get sued, so they can do what they want.  It's very corrupt.
These are the ingredients in a flu shot:
It is one of the most dangerous vaccines on the market, linked to sudden death, stroke, paralysis and more.
And even mainstream media has to admit it hardly works — if it even works at all.
Studies show that it rarely protects people from getting the flu and that increased vaccination does NOT reduce mortality in any age group. "We could not correlate increasing vaccination coverage after 1980 with declining mortality rates in any age group. Because fewer than 10% of all winter deaths were attributable to influenza in any season, we conclude that observational studies substantially overestimate [flu] vaccination benefit." (link to study)
So is that flu shot really worth the REAL risk? Just to escape a few days of rest… Think twice before rolling up your sleeve. Actually think three times, four times, five times….
You can also shed the virus to others after getting the vaccine.  So you get the flu everywhere anyways.  Why not just boost our real immune systems?
So the theme here is work on actual INNATE immunity!! Your child cannot actually get immunity unless they actually contract the infection!  They have to have that innate immunity and adaptive immunity reactions to have immune system memory.  A lot of the infections we "vaccinate" for aren't that serious.  They were in the olden days, when we had poor sanitation, didn't wash hands, and didn't know much about pathogens.
We have so many resources now for the immune system and how to effectively protect it, and heal from infections.  Remember it's good for your child to get sick, it builds their immune system naturally!  Vaccines do NOT equal immunity.
If you want more resources, take a look at learntherisk.org.
What I like to use for children's immunity:
1. Chiropractic!  Healthy brain=healthy immune system.  Regular chiropractic care is shown in research to boost white blood cells for immunity.
2. Nutrition.  Cut out the candy, sugar and processed foods which feed microbes and decrease the immune system.
3.  Foundation-  utilizing a great multivitamin and omega will create a great foundation for immune system function.  Not from the grocery stores or flinstones or gummies.  REAL food vitamins.  Ask me for good companies I've thoroughly researched.  If you get vitamins from other sources, its more toxic to you than not taking them.
5.  Essential oils–  EO work wonderful for preventing, stimulating the immune system and fighting infections at the source.  Don't run to antibiotics, rarely are the cold and flus actual bacteria, and then you destroy your good gut bacteria.  I only trust DoTerra as they are the most tested and purest forms safe for your little ones.  Ask me for more info.
6.  Herbs.  Certain herbs and supplements work wonderful for boosting the immune system.  Ecchnicea premium and Astragulus are wonderful immune system boosters, as well as whole food vitamin C and zinc.  I also love using Aregentyn silver for kicking bugs to the curb quickly and silymarin to increase glutathione production.
7. Sanitation.  Use essential oils to disinfect, not harsh chemicals.  Wash your hands.  Stay home if your sick, and don't spread things around!!!
——————
Halloween Candy Alternatives
I know i know… I don't want to be the bad guy as I'm sure you don't in your home, but candy really is the devil haha. In all seriousness…. sugar is a toxin to our body, especially for growing minds.
It's hard to control all that goes in and out, but I encourage you to moderate what your children get this year, as well as use other alternatives to giving out candy.
I personally give fun little toys, glow sticks and the such, which actually kids tend to love even MORE!   There's options out there so don't go right for candy.
1. Glow sticks.
100 8" Non Toxic Glow Sticks
PartySticks amazon.com $11.99
Here's a not-so-fun fact: Children are most at risk for being hit by a car on halloween night according to today. Toss glow-in-the-dark accessories into their bag to help them stay visible. Plus, who doesn't love a glow necklace?
2. Stickers.
Speaking of stickers, what kid doesn't love decorating their notebooks with fun adhesives? Sheets of stickers make for fun treats that won't weigh down trick-or-treaters' bags.
3. Honey.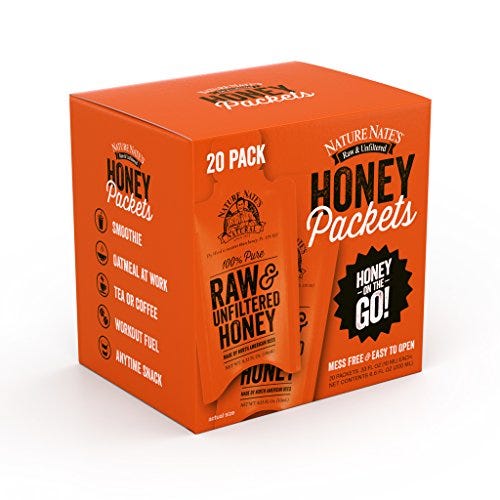 Nature Nate's 100% Pure Raw & Unfiltered Honey
Nature Nate'samazon.com$7.88
t'll give the kids an energy boost that won't keep them awake later — some evidence even suggests consuming raw honey before bed can help induce the production of tryptophan, an amino acid that makes people sleepy.
4. Snack bags.
If you don't have a ton of time to shop, prepackaged individual servings of veggies snacks, or whole fruit leathers.
5. Pencils, erasers, and pencil toppers.
School supplies in fun shapes and patterns give them something to enjoy after Halloween ends.
6. Bubbles.
Pick up Halloween-themed party-sized bottles or grab packs of white ones and decorate each with stickers.
7. Spooky accessories.
Think plastic vampire teeth plastic spider rings and other age-appropriate goody-bag fillers you can easily nab at the party supply or dollar store.
8. Mini bottles of water.
Walking from door to door can be a workout, so help the kiddos stay hydrated while they make the rounds. Slap on spooky label and you're ready to go.
9. Temporary tattoos.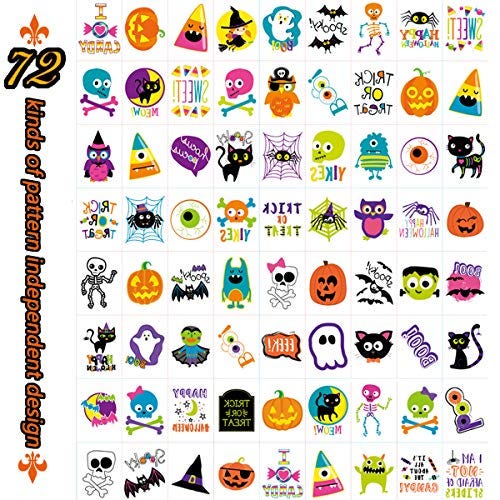 EaNy Toys Halloween Temporary Tattoos
EaNy Toysamazon.com$9.99Halloween-themed tattoos are safe for the kiddos, easy to press on, and they'll have a blast showing them off at school the next day.
11. Bouncy balls.
Opt for creepy eyeballs in the bouncy ball department if you want to stay with a theme.
12. Key chains.
Whether they slip it around their jeans in the coming days or add it to their backpack, the kids will love bouncing around with a pumpkin, vampire, or ghoulish key chain
13. Slap bracelets.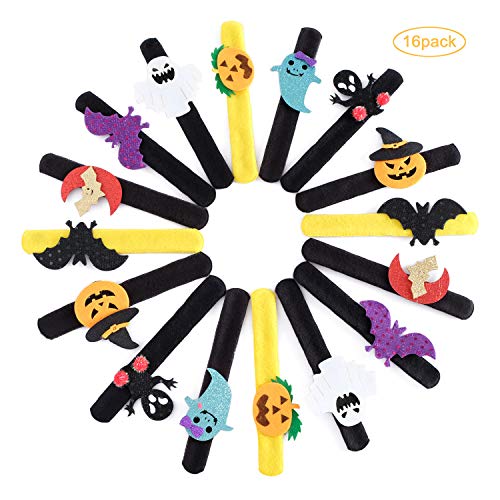 Slap Bracelets Halloween Party Favors
SOTENamazon.com$8.99
You loved them in the '80s and '90s, and now your kids will know the joy of a slap bracelet too.
14. Activity pads.
Instead of a treat that'll last for all of five seconds, hand out pages of assorted coloring sheets, puzzles, and games that'll keep them occupied for hours.
OIL OF THE WEEK
ON the spotlight this week is Dr. Hamel's favorite Blend called a FLU BOMB!   This blend of DoTerra Essential oils, will knock infections on their butt.  She personally uses this as a protection, and frequently when she does come down with something to help recover quickly.
This blend incorporates 5 different oils:
1. Lemon-  Amazing gentle detoxer
2. Melalucea- Or some people know it by Tea tree oil.  An amazing antimicrobial, antibacterial, antifungal.
3. OnGuard – Blend of specific oils that help fight viruses and bacteria, can also be used on its on to protect yourself to make sure you don't get sick!
4. Oregano-  huge powerhouse for killing microbes.  Bacteria, fungus, parasites.. Be careful with this one it's spicy!  So make sure you dilute
5. Frankincense-  known as the king of all oils, this powerhouse oil has over 40 different uses.  It helps decrease inflammation in the body and helps stimulate the immune system to fight off infections.
Interested in purchasing a flu bomb or making your own???  Reach out to Dr. Hamel!
The next oils class will be Wednesday November 7th!  We will go over pure fumes, natural scents to use in your own and on your body, immune system boosters, and holiday items!  Have a class you're interested in?? Let her know!!  The class will be at her Mission Valley office at 6pm!
I would use grass fed butter instead of vegan butter.Activated Charcoal is a
natural detoxifier
 It helps to bind to toxins and flush them out of your body. It's been used in emergency rooms and for trauma for years. Many who subscribe to a more natural or alternative health lifestyle use it to help with detox and to reduce bloating. It also MAY help decrease your hangover if you are drinking. Be sure to drink plenty of water any time you take charcoal, including in apple form, as it can cause dehydration.
Second, the bad. It will stain. Don't wear your nice clothes when you make these apples. Be sure to check the bottle that you use for dosage. For example, mine said not to exceed 12 capsules a day for an adult. I used 6 capsules in this recipe. I probably could have used more to make it darker, but there is a thing called too much.
That is all for now,
Dr. Hamel